The proceeds and expenses of the Ministry of Communications and Information Technologies are forecasted to increase by 5.8% and 6.5% respectively in 2006. Pursuant to the estimate indicators approved by the Cabinet of Ministers the other day, the incomes and charges of the Ministry will total AZN 147 million and AZN 149 million respectively in the current year.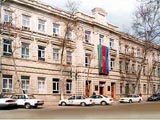 As to the structure of the incomes of the Ministry, revenues from international and long-distance calls are expected to form approximately AZN 85 million, from subscription fees AZN 22.6 million, and from postal services AZN 10.3 million, APA informs.
AZN 25 million of the expenses of the Ministry in 2006 fall to share of major costs, AZN 3 million of payments into the state budget on dividends, AZN 32.4 million of payments on salary, and AZN 19.8 million of taxes.