European plane maker Airbus says it has again won the number one position for passenger aircraft orders thanks to a surge in end of year sales.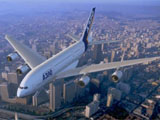 Thirty eight per cent of its net orders came in December.
Airbus Chief Executive Officer, Gustav Humbert said: "2005 was the best year ever for Airbus, be it in terms of deliveries and production rates, in terms of profitablility, in terms of order intake, both gross and net. With this big success in 2005, we have maintained the leadership in our industry," informs EuroNews.
The year saw a huge rebound in plane orders. The European company's firm orders almost tripled to a record 1,055 aircraft in 2005 from 366 the previous year.
Boeing's total was 1,002 - up from the previous year's 272.
However the American manufacturer sold a greater number of the more profitable, larger, long-haul planes than Airbus.
Boeing had been hoping to regain the top spot, helped by demand for its new fuel efficient 787 Dreamliner.
Airbus said its revenue last year rose to about 22.3 billion euro from 20.22 billion in 2004.
Both planemakers benefitted from increasing passenger numbers coupled with rising oil prices.
That has encouraged airlines to invest in new planes which use less aviation fuel.
The current order books are enough to keep Airbus busy for at least five years.
It said it plans to deliver more than 400 aircraft this year.