In a further sign of strained relations, Kiev is demanding that Russia lift a ban imposed yesterday on Ukrainian dairy products.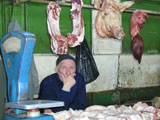 Moscow has stopped all imports of Ukrainian meat and animal by-products, accusing the country of violating veterinary standards. Ukraine's deputy agriculture minister said the situation was worrying for his country, which exports about 60 percent of its dairy produce to Russia. Talks are now underway between Kiev and Moscow on the issue, reports EuroNews.
Relations between the two countries are already tense. On Thursday, Ukraine's parliament demanded that the government negotiate a new deal with Russia on gas supplies. This after a deal was struck providing for steep price increases. Last week parliamentarians voted to sack the entire cabinet over the gas accord. Ukraine's president has slammed the move as illegal.