The 42nd meeting of the Council of the Heads of the Customs Services of the CIS-participating countries started on January 19 in Saint-Petersburg city of Russia.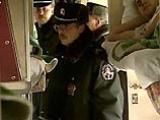 The delegation from our republic headed by the chair of the State Customs Committee Kamaladdin Heydarov is also present in the meeting, APA informs.
It is expected that the secretary general of the World Customs Organization (WCO) Michele Dane will present the conception of realization of the framework of standards for ensuring and simplification of the Global Trade Security to the Heads of the Customs Services of the CIS states-participants and discussions of related issues will be held.

It should be noted that an exchange of views was held in the meeting of the experts of the Council held on January 16-18 on the issues that were currently being discussed and the agenda of the Council's meeting was specified.
The results of the year 2005, methodical fundamentals of prognostication of tax revenues from foreign economic activities, law-enforcement activities of the WGO Regional Intelligence Liaison Offices Network, situation and perspectives of training of employees of the customs organs of the CIS-participating states in the base of the Russian Customs Academy, draft agreement on mutual exchange of printing produce and other issues will in the course of the meeting.
The participants of the meeting will approve the Council's plan of work for 2006 as well.