Subscribers will be able to watch TV by means of stationary telephone communication from February-March months of the current year.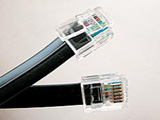 As APA reports citing the Deputy Director of the Baku Telephone Communication Production Union (BTCPU) Khankishi Kishiyev, this project is currently worked on and this innovation will be possible only by means of asymmetrical digital subscription lines.
The BTCPU official noted that this new technology exists almost in all ATS of Baku at the moment. That is why most of subscribers in Baku will be able to use this innovation.
Subscribers must install modems in their phone sets in order to watch TV by means of communication lines. After that they will be able to simultaneously speak on the phone, watch TV and use wide-striped Internet services.
The new technology will enable subscribers to adjust video effect of TV broadcast and increase the number of channels.