The Azerbaijan Insurance Companies Union (AICU) completed all documentation works for establishment of the Insurance Training Centre (ITC) in Baku and short-term courses for employees of insurance companies to be started in the Centre this year, in April.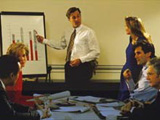 As APA reports citing the executive director of AICU Fuad Alakbarov, it is planned to run long-term courses for training of specialists in ITC in September.
The two-week short-term courses are organized for teaching fire insurance, medical insurance, insurance against accidents, life insurance and other kinds of insurance.
F.Alakbarov said that negotiations were currently held with the potential donor organizations and Ministry of Finance for funding of ITC.