It is expected that a credit of $50 million the European Bank for Reconstruction and Development (EBRD) to grant to our country for upgrade of the locomotive fleet of the Azerbaijan State Railway (ASR) will be approved in a next meeting of the Board of Directors of the Bank to be held on January 27.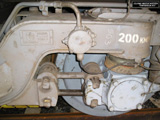 As APA informs according to the words of M.Panahov,the Deputy Minister of Transport, the credit is planned to be granted at Libor+1% for the period of 15 years with privileged 3 years of this period.
The loan will be utilized to upgrade the fleet (procurement of 12 locomotives), repair the "Depot" and for other purposes.