The AGN Mak Company completed preparation of an auditors' report on the first six months of 2005 within the framework of the Extractive Industry Transparency Initiative (EITI).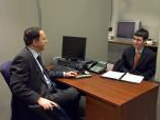 The report will be discussed with participation of the government, NGO and companies in these days, as APA reports according to the coordinator of the NGO Coalition to Improve Transparency in Extractive Industries Sabit Baghirov.
Data on incomes and payments to the government of 22 companies operating in the extractive industry field was reflected in the report.

According to the words of S.Baghirov, for the first time the Inpex and Itochu Corporations of Japan presented their reports on incomes and payments to the government. The NGO Coalition will analyze the auditors' report of the AGN Mak Company next week.
It should be noted that this is the 3rd report in number. Audit of the previous reports was implemented by the Deloitte&Touche Company.