The Fifth meeting of the board of trustees of the Azerbaijan Fund for Facilitation of Export and Investments (AFFEI) has been held today.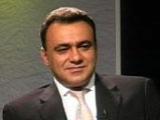 The meeting was held for the first time under the chairmanship of the new Minister of Economic Development Heydar Babayev. During the meeting the results of the Fund's last year operation have been viewed and the action plan for 2006 has been coordinated, Trend reports.
During his address to the board head Babayev said, according to the report of the UNO Organization on Trade and Development (UNCTAD) "Report of world investments-2005" Azerbaijan takes the first place worldwide by the direct foreign investments attraction index in 2004.
According to the AFFEI president Emil Medjidov, 15 economic forums were held in 2005 with the fund's involvement. From the moment of the board of trustees last meeting (the last year August) the Azerbaijani-German, the Azerbaijani-Finnish, the Azerbaijani-Latvian, the Azerbaijani-Austrian business-forums were held. The Azerbaijani-Hungarian business-forum was held in Budapest.
Except for holding business forums setting up the information centre on export and the information base, the survey of the existing investment projects and identification of potential ones, preparation of the teaching modules on export, the export base survey, establishing the trade port and etc. are supposed this year.
On the results of the meeting new members have been accepted to the fund's trustee board: the Milli Mejlis vice speaker Valeh Alaskarov, the chairman of the State Atatistics Committee Arif Veliyev, President of AZEL company Igor Yakovenko, Director General of the "Istehsalat va Kommersiya" JSC Ikram Kerimli, President of the ?? Standart Holding Orudj Heydarov and Bank Societe Generale representative Teyyub Guliyev.
By the decision of the Board of Trustees the number of its members will not be limited any more. Earlier it was limited by 55 persons. Besides, the decision on establishing the Supervisory Board of 7 persons was taken. Its chairman became the Milli Mejlis member, the Azerigazbank head Chingiz Asadullayev.