The Bank Standard Commercial Bank has started implementation of the "Bon Voyage" privileged tourism program prepared along with several travel agencies of the country from today.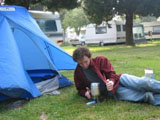 According to APA, in this program intended for persons going abroad owners of the "Bon Voyage" cards will be granted a big variety of privileges and free services.
It should be noted that it is possible to be a member of the "Bon Voyage" program completely free of charge – for this purpose one should only get a MasterCard or VISA card issued by the Bank Standard.

Such companies like "BTI", "Improtex Travel" and "AB Travel" are among the travel agencies attracted to the program.