The Azerbaijani and Iranian power engineering specialists discussed technical and organizational details of joint projects in their regular meeting held the other day.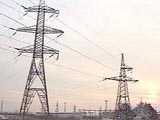 According to the information given to APA from the press-service of the "Azerenergy" Open Joint-Stock Company (OJSC), at present the main questions in the agenda is the project of expansion of energy stream between the national energy systems. It was intended to increase energy exchange with Iran to 700 megawatts, construct a 330 kV electric main (EM) between the Ali Bayramli SRPS and Imishli, build the second Imishli-Pirsabad line, 220 kV Ali Bayramli SRPS-Salyan, Salyan-Masalli, Masalli-Astara EMs, and expand the "Salyan" substation and 4 more substations in the future development plan of the energy field of Azerbaijan.
As to the opinions of the experts, it will enable to deliver 150 megawatts of electric energy to the Autonomous Republic of Nakhchivan and 400 megawatts of electric energy to enter the energy system of Azerbaijan in winter.
It should be noted that an agreement was signed for granting of a credit by the Iran Export Bank for implementation of the Azerbaijan-Iran energy project. At present equipments are purchased and necessary machinery is brought for construction of the "Salyan" substation and modernization of the electric mains in the territory of Azerbaijan.