The budget of the State Oil Fund of the Republic of Azerbaijan for the year of 2006 is planned to be 807842,6 thousand AZN, as informs.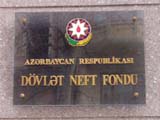 According to SOFAZ press service, 684 000 of them are proceeded from sales of the Republic of Azerbaijan's share of hydrocarbons (exclusive of hydrocarbons' transportation costs, banking expenses, customs costs, independent surveyor, marketing and insurance costs, and also exclusive of the revenues from the SOCAR's share in the projects of which it is an investor, shareholder or partner), 7 434 from acreage fees by the foreign investors for use of the contract areas in connection with the development of hydrocarbon resources, 13 500 from the revenues generated from oil and gas pass over the territory of the Republic of Azerbaijan, 67 500 from oil and gas agreement signature and/or performance bonuses paid by investors to the State Oil Company or an authorized state body, 35 318,6 from revenues from management of SOFAZ's assets and 90 000 AZN - other revenues.
All the forecasts obviously exceed the last year showings.
In 2006 The State Oil Fund is going to finance a number of important projects.
The expenditures for financing some projects concerning solution of the social and settlement problems of the refugees and internally displaced persons will take 110 311 AZN, 38 000 will be spent on financing of the participation of the Republic of Azerbaijan in Heydar Aliyev BTC Main Export Pipeline Project, transfer to 2006 State Budget of the Republic of Azerbaijan will take 585 000, 90 000 will be spent on financing construction of the Oguz-Qabala-Baku water supply system, 37 000 on financing the reconstruction of the Samur-Absheron irrigation system, 90 000 will be spent o formation of the statutory capital of the State Investment Company, 3 976,7 on Oil Fund's operating expenditures. So, if to summarize the SOFAZ expenses for 2006 it will make 954 287,7 AZN.