Some Azeri MPs voiced concerns over the government's unanticipated decision to double retail prices on some oil products to bring them closer to world levels.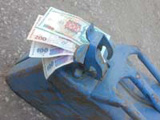 The senior body regulating prices, the Tariff Council, on Thursday set the retail prices on diesel, kerosene and stove heating oil at 36 Gapiks per liter, or 1,800 old Manats (some 40 cents).
Member of the parliamentary commission on economic policy, economic expert, Ali Masimov said such decisions should be agreed upon by the government and the parliament.
"The measure will lead to the increase in prices on other products. The Milli Majlis should therefore discuss issues relating to the social security of population with the participation of government members," he said in an interview with AssA-Irada.
Masimov said that since the parliament is currently adjourned, the MPs will address the issue only after they are back from the break.
"It is common knowledge that the increase in fuel prices is inevitable. But this should not be carried out as a 'shock therapy'. The government should implement this gradually, taking into consideration the fact the increase will subsequently lead to higher prices on other goods."
Another member of the commission, Vahid Ahmadov, agreed that an abrupt increase was inappropriate, saying that certain steps should have been taken prior to the move. He said the government should have realized granting direct social assistance prior to raising the fuel prices, which means the measure will take a toll.
"It will be extremely difficult to prevent a considerable increase in prices caused by higher fuel prices through administrative tools. The increase will be particularly observed on agricultural products in fall."
With regard to some assumptions that the increase in fuel prices could lead to a 'social explosion', Ahmadov said there are no pre-conditions for this in the country.