"Azerbaijan will launch a satellite in the space soon. The new satellite will be orbited together with Azerbaijan, Russia and Georgia."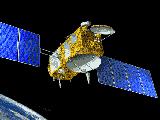 Director of Azerbaijan National Aerospace Agency (ANAA), Professor Aflatun Hasanov told APA about it.
According to A.Hasanov, the satellite to be made jointly by the three states will function as transmitter, controller and etc in the region. He said that the new project will cost $1million for our country.
Stating that Russia will pay main allocations for orbiting the satellite, A.Hasanov explained it by the correlation of the sputnik to the territory it controls. Saying that the agreement was achieved in Tbilisi conference in late 2005, general director of ANAA noted that a new Cosmic Regional Center covering Middle Asia, Turkey and other territories will be established too.