Court of Economy on arguments due to international deals satisfied the claim raised by Ibrahim Mammadov, former owner of "Azertrans LTD" against Justice Ministry and Dutch "Allied Meridian Oil and Gas Group B.V" company.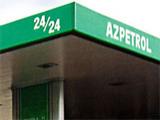 Ramiz Hasanov, lawyer of I.Mammadov told the journalists.
According to him, the Dutch company got the constituent fund of "Azpetrol" company from I.Mammadov by deceiving in early 2005 and he was made to sign a contract on donation without any interest.
As the result, a great amount of property of "Azpetrol", "Azertrans" and "Azpetrol LTD" was transferred to the account of the foreign company:"I was aware after the start of the court process that the Ministry of Taxes also raised such claim. The Ministry of Taxes claims that the foreign company was registered illegally. Even the opposite side agreed to it in the court process. The court satisfied our two claims. At the same time, the court made decision on invalidity of the registration of the Justice Ministry on transfer of constituent right in "Azeritrans LTD" to Allied Meridian Oil and Gas Group B.V" company. We haven't claimed to impose fine on the opposite side".
Lawyer of "Azpetrol LTD" Kamal Mammadzade told the journalists that they disagree to the claims of the opposite side:"Their claims are groundless. The representative of Ibrahim Mammadov achieved in changing the owner of "Azpetrol LTD" by false information. We consider it baseless to adopt such a resolution".
Head of Department for Registration of Juridical Persons of Justice Ministry Fazil Mammadov considered the court decision to be right. He told APA that the registration was by accident.
/APA/