Japanese company built a facility that will help Azerbaijan to get rid of polluted by oil spill areas around Baku. Presentation of "Oil Extractor" facility will be held on December 14.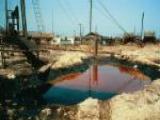 "ADO-G" Group of Companies and the Japanese "KOSPA" Limited Liability Company created joint enterprise in Azerbaijan to organize the cleaning of polluted areas.
Information about the creators of the "Oil Extractor" facility and organizers of production of the facility in Azerbaijan will be given at the presentation ceremony. An official delegation from the government of Japan and representatives of the government and state of Azerbaijan will participate on the ceremony.
APA