On Friday Azerbaijani President Ilham Aliyev signed a decree on appointment of former head of Heydar Aliyev oil refinery plant Rovnag Abdullayev the President of the State Oil Company of Azerbaijan (SOCAR).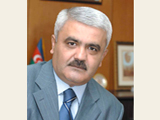 Abdullayev was born in 1965, graduated from the Moscow Engineering-Construction Institute in 1989. He worked in the Overhaul Repair Division of the 28 May oil and gas producing unit in 1990, became the chief of the Production-Technical Division of the Construction-Assembling Unit 3 under Caspimorneftgazstroy Enterprise in 1991, the chief engineer of this enterprise in 1994.
Abdullayev was the head of Caspimorneftgazstroy Enterprise since 1997. On 31 March 2003 he was appointed the director of Heydar Aliyev oil refinery plant at the President's decree.
APA