A group of "Azerenergy" Open Joint-Stock Company specialists along with vise-president of OJSC Marlen Asgarov, director of Baku Heating Electric Enterprise #2 Gulmira Guliyeva, chief engineer of Energy Production Office Fazail Suleymanov visited Vaasa city,Finland to attend the testing of module power stations.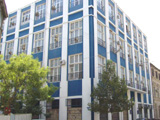 The objective of the visit was to familiarize "Azerenergy" with the quality indications of module stations to be installed in the country. The representatives of "Azerenergy" attended the testing operations of module stations in the plant belonging to Finland's "Wartsila" company.
After experiment the aggregate was dismantled and its parts were reviewed by the specialists. Technical report of the experiment results was drawn up at the end and presented to the Azeri quests.
APA