Azerbaijani oil continues loosing in price on the world market.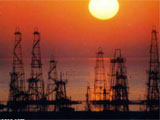 The price of a barrel of oil "Azeri Light" reduced to $ 55 and a barrel of "Ural" oil to $49 and 90 cents during the last week. According to the information given to APA by the deputy-chief of the Marketing and Economic Operations Department of the State Oil Company of the Azerbaijan Republic (SOCAR) Mukhtar Babayev, the price of "Azeri Light" oil was $ 54 and 38 cents under a condition of delivering to the ports of the Mediterranean Sea.
This means that the price of one barrel went $ 5 down in comparison with the last week. According to Babayev, if we exclude Iran factor then oil prices will not drop during the nearest months.
APA