State Social Protection Fund (SCPF)informs that 1 million 176 thousand 476 persons obtain labour pension in Azerbaijan.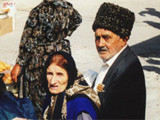 SCPF informs that the average monthly amount of this pension is 146 thousand 945 manats. It is expected that the number of persons to obtain labour pensions will increase by the next year.
Main incomes of the fund will bi directed to fund labour pensions in 2006. Expenses of the fund are predicted to form 567,6 million manats next year, and 94,2 % of it will be spent to cover pensions and allowances.
It should be noted that SCPF will give only labour pensions by the next year. Pensions currently given to invalids will be distributed by local branches of the Ministry of Labour and Social Protection of Population as an addressed assistance by the next year.
APA