Official opening ceremony of the newly opened branch of "Bank Respublika" was held in Guba. According to the information given to APA from the bank, the opening of the branch brought together the administration of the bank, executive power of the region, representatives and the clients of the bank.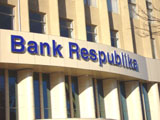 It was stated that, the branch in Guba will focus on the crediting of the entrepreneurship to develop the economy of the region. The services of the branch include accounting and treasury services, deposit operations, money transfers, operations on plastic cards, credit and etc.
It must be noted that, the branch in Guba is the 10th branch of the bank and new branches of "Bank Respublika" are expected to be opened in Lenkeran and Sumgayit.
APA