The first airbus A319 purchased by State concern Azerbaijan air line (AZAL) is to arrive to Azerbaijan 15 July. The agency Trend reports, SC informed about this.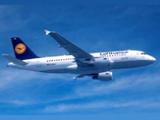 AZAL is to get 3 additional airplanes and corporate air liner "AIRBUS" ACJ by the end of this year. The last year AZAL received airbus "?320", which is to be applied for training of technical crew.  
The contract on purchase of four airplanes was signed by the heads of State concern AZAL and company AIRBUS in August 2004 in Berlin during official visit of the president Ilham Aliyev to Germany. The delivery of the first airliner ACJ to Azerbaijan is to be by the end of 2005. The cost of the contract is $170mln.