At the Gynja car factory OKA model cars are being assembled. In the next two months, assembly of UAZ model cars is planned.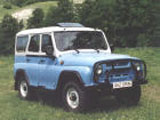 Technical preparation is underway at the plant's experimental workshop.   
According to the head of the Ganja Car factory, Khanlar Fatiyev, a group of employees of the enterprise will go to Ulyanovsk Car factory for training, Trend reports. Invitation of specialists from there to Ganja also planned.
The factory holds talks with two Chinese companies on cooperation. The enterprise is expected to sign a contract with one of them.