Baku, IAA "Trend" 20 May corr. V.Sharifov.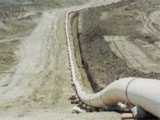 Azerbaijan International Operating Company (AIOC), which develops field "Azeri-Chirag-Guneshli", plans exporting in June 2005 by 40 thousand barrels of oil Azeri Light brand per day by Azerbaijan-Georgian railway to port Batumi. The agency Trend reports, the head of AIOC David Woodward said to journalists about this.
He said, besides this, it is planned to export by pipeline Baku- Novorossiysk about 80 thousand tons of oil. "Pipeline Baku-Tbilisi-Ceyhan is prioritized (during pumping of oil), then "Western route" (Baku-Supsa) is in the second place and railway (to Batumi) is in the third turn. Only after this point it will be defined about the amount of oil, which is to pump by "the northern route", D.Woodward said.
As for presentation to AIOC of access by pipeline Baku-Novorossiysk to SOCAR, D. Woodward said, it would depend on utilized capacity of BTC by oil. "We figure, SOCAR will be presented possibility to export some amount presumably during June (by Baku-Novorossiysk)", the head of AIOC said.
D.Woodward also indicated, in monetary expression it would be cheaper by $4-5 per barrel for AIOC to use railway route to Batumi, rather than to export oil via Novorossiysk.