The Directors Council (DC) of the World Bank (WB) adopted a decision about granting to Azerbaijan $68 million credit.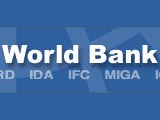 This was realizable in the result of asserting 2 projects related to Azerbaijan in the next meeting of WBDC held on May 17. This was informed to APA from the Baku representation of WB. $20 million of the credit will be allocated in the frame of "The State Program on Poverty Reduction and Economic Development", and $48 million in the frame of the "Electric Conductor System" project.
We should note that at present WB is financing 16 projects in the cost of $365 million in Azerbaijan. The execution of new two projects will be started recently. These are the "Aid for the economic development of the Internally Displayed Persons" cost $11, 5 million and the "Development of the financial services" project cost 12 million 250 thousand dollars.
The affirmation problem of the new "Protection of the environment in the villages" project related to Azerbaijan will be discussed in the meeting of the Directors Council of the bank on May 9. The project which costs generally $17-18 million will be granted about $8 million credit by WB.
We should remember that approximately $630 million of credits have been granted to 24 projects realizing by WB in Azerbaijan up to now. The credits granted to the projects realizing by WB in the country are given for the term of 35 years, the first 10 years without payment and with 0, 75 % per year.
/APA/