Session of the Board of directors of Azerbaijan-American Joint Venture Caspian Drilling Company (CDC) has started in London 16 May.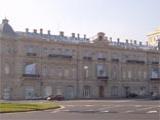 The agency Trend  reports, State oil company of Azerbaijan, which is member of JV, informs, the  first vice president on geology and geophysics Khoshbakht Yusifzade, the  legal expert of the company Eldar Orujov and the chief of the department Arif  Nazarov have been participating at the meeting.
SOCAR mentions, that visit of delegation of State Oil Company is to continue till the end of current week.  
Presently, CDC conducts geo-technical drilling from floating semi- submersible drilling plant "Dede Gorgud" at deep part of field "Guneshli".  After completion of geo technical works "Dede Gorgud" is to be sent to the Eastern part of "Azeri" for realization of the program of pre-drilling.
The program of development of deep part of field "Guneshli" proposes drilling of 16 wells, 10 wells are to be drilled from support block, and six wells are to be drilled from underwater plant.