The Ministry of Finance will hold investigations in 55 objects this year.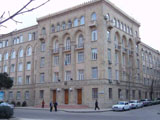 According to the information given to APA by the Minister of Finance Avaz Alakbarov, these investigations are holding in correspondence with the schedule. Among the objects to be investigated there are names of our diplomatic representatives in 5 foreign countries, too. As to the words of the minister, the disorder reduced a lot relatively last year, the discipline on the financial registration improved.
The minister of finance speaking about the falling process observed in the prices said that it was related with some factors: "Falling of the prices can be categorized in 3 groups. First, the previous price-base was high that it was impossible to continue it. Second, it is the eliminating of the artificial factors. Third, though the measure plan about reducing of the prices wasn't asserted, the process has already begun: "I don't think that there will be any deflation after the complex measures are implemented. In any case, it is real for inflation to be 5-7 %".
According to the words of the minister, The artificial cases in the growth of the prices had been related with the bureaucratic factors, procrastination, intentional interference and meddling inflations in the import, production and trade networks: "The corresponding executive power organs must carry out measures to eliminate such cases".
A.Alakbarov informed that he wanted to make more active the process of developing of the short-term obligations market of the state. According to his words, although they wanted to organize an exchange last week, it was impossible: "It is a pity that the ordering in the sum of 4 billion manats was only and we couldn't organize the exchange. This process will be renewed tomorrow. We want to participate in the process with 150 milliard manats of means". The minister considers that it is impossible to print securities with 15 % in the period when inflation is reduced and the target is 5-7 %. As to him, maximum 10-11 % must be applied here.
/APA/