USA is ready to assist Georgia at negotiations on purchase of additional volumes of gas from Azerbaijan, produced at field "Shah-Deniz".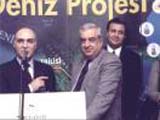 The Minister of fuel and energy of Georgia Nika Gilauri informed about this to journalists.
During Washington visit, held last week, Nika Gilauri met with representatives of administration of US president, including with personal representative of USA on conflicts in Eurasian region and main advisor of the State department and the president on issues of energy resources of Caspian Sea Steven Mann.
The issue of discussion at the meeting was issue of energy security and diversification of energy supply of Georgia and the region as a whole.
"It was indicated during meeting, that for protection of interests of Georgia in case of necessity, USA is ready to participate at any talks, to be conducted by Georgian party", the minister indicated. He said, in the first turn, this refers talks with government of Azerbaijan and investors of the project "Shah-Deniz".
The Georgian government intends starting talks with consortium "Shah- Deniz" about realization of additional purchases of natural gas from Southern Caucasian gas pipeline "Baku-Tbilisi-Erzurum" (SCP).
The minister mentioned, according to realized contract Georgia is to obtain by 2011 800 mln. cubic meters of natural gas per year- summative volume of gas obtained by Georgia as payment for gas transit via its territory, and also gas, which may be purchased by the state on discount prices.
Nika Gilauri stressed, negotiation process is in its beginning stage and its process is to be rather complex. At that, the speech is not about revise of existing contract, or presentation to Georgia of some additional discount conditions, but about additional purchases of gas by market price, which is to be set by that period.
According to contract with investors, Georgia will be able to obtain 5% from gas transportation volume by SCP, ad also purchasing 0.5 bln. cubic meters per year by $55 per 1000 cubic meters.