Next 10th meeting of the USA-Azerbaijan Working Group on Economical cooperation was held in Baku.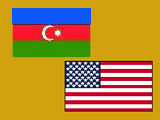 The objective of the meeting to last for two days is to assist economical reforms and to market relations between Azerbaijan and the USA, and to discuss several issues on cooperation.
The meting is presided by Finance Minister Avaz Alakbarov .Azerbaijani delegation includes Finance Ministry, Economic Development Ministry, Ministry of Taxes, National Bank, Ministry of Communication and Information Technologies, Justice Ministry, State Customs Committee, State Author's Rights Committee and representatives of Foreign Ministry.
The USA delegation is led by the USA State Department Coordinator on Assistance to Europe and Asia Thomas Adams. The delegation includes the USA ambassador in Azerbaijan Reno Harnish, Director of the USA International Development Agency Geymuz Hagen, representatives of USA State Department and USA Commerce and Development Agency. Chairman of the group by Azerbaijani side, Finance Minister Avaz Alakbarov addressed the meeting stating that, the economical matters in the country are going well.
He stressed that, gross domestic product increased: "Foreign and local investments in the country are increasing rapidly. State budget was fulfilled superfluously in the last 4 months this year. Besides, measures are implemented for the improvement of social welfare. We intend to reduce the existence tax rate and we achieved it in January this year. Social insurance taxes were reduced to 5%.Azerbaijan extends the cooperation with International Finance Institutions and estimates of incomes and expenses of large state companies have been confirmed following the advice of International Monetary Fund."
The agenda of the meeting includes the discussions on macro-economical environment, cooperation of  Azerbaijan with international finance institutions, continuation of economic growth, transparency  in the use and management of  oil incomes, membership matter of Azerbaijan to World Trade Organization, "Anticorruption Strategy" of Azerbaijan and combating corruption, implementation of bank control program, state antimonopoly program, adoption of Bill "About Mortgage", opportunities of Azerbaijan's joining to "Millennium Challenge" program, condition of execution  of "State Program on socio-economical development of regions" and other issues.
It must be noted that, Working Groups conduct meetings in Baku and Washington twice a year. The Interstates Working Group was founded by the memorandum signed by Ambassador William Taylor and Minister Avaz Alakbarov in January 2000. The last meeting was held in October, 2004 in Washington D.C.
/APA/