Azerigaz increased the price on natural.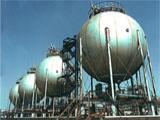 This is already the second rise in the gas price for the last three months. The gas price grew 2.3 times to 81,000 manats for 1,000 cubic meters in November 2004.
Azerigaz explains the increase in the gas price by the need to bring the fuel price to the purchasing price on which Azerbaijan buys gas in Russia. Under the agreement for 2005 between Gazexport, a Gazprom subsidiary, and the Azerbaijani state oil company, the price for each 1,000 cubic meters of gas imported from Russia increased from 52 to 60 dollars in 2005.