The National Bank of Azerbaijan (NBA) cancelled the licenses of the commercial banks Bank of Baku and Ilkbank.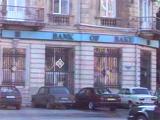 The National Bank of Azerbaijan (NBA) said that the liquidation of the bank was a step towards their merger.
The NBA adopted the resolution on the base of relevant resolutions taken by the shareholders of the two banks, made in a joint meeting. The unified bank will act as an open joint stock bank 'Commercial Bank 'Bank of Baku'. At the moment the NBA has issued a new license for the consolidated bank, the clients of the bank are recommended to appeal to Bank of Baku for any question.
The statutory capital of two banks comprises 34bn manats.