Mr. Ragif Abbasov, Head of Press Service of the Ministry of Youth, Sports and Tourism, told the Trend Agency that the flow of tourists to Azerbaijan during the current year had decreased.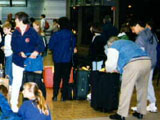 According to him, the rate of tourist flow in the world has decreased due to recent natural catastrophes and threat of terrorist acts, which has also had an impact on Azerbaijan. Giving some statistical figures Mr. Abbasov informed that 1.350m tourists arrived from Central Eurasian, CIS countries, as well as from Russia and Iran, whereas Azeri tourists to visit foreign countries made up 350 thousand last year. The majority of Azeri tourists visited European and CIS countries, including Turkey.
The Head of Press Service also informed that premises for the projected Centers of Tourist Information in Nakhichivan AR and Ismailly region have already been selected and they are under repair and inventory registration process at present. They will be opened in two months.