The first tanker with Azerbaijani oil might be unloaded I the Turkish port Ceyhan on 30 September - 1 October 2005, Natig Aliyev, the President of the State Oil Company (SOCAR) told local television company ANS.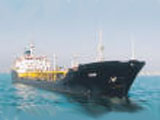 "A meeting of the Board of Directors of the Baku-Ceyhan discussed a business schedule in Baku on 16 February. The first tanker with the Azerbaijani oil might leave Ceyhan on 30 September - 1 October 2005," Aliyev stressed.
According to Aliyev, the Azerbaijani section of the pipeline will be fulfilled with oil lifted from the Caspian field Azeri by mid-May 2005, run via the Georgian section of the pipeline by late June and onwards to the Turkish border and port of Ceyhan in the Mediterranean Sea.
The BTC is designed for pumping 50m tons of oil per year and the shareholders paid $4bn for it. "In 2008 export potential of Azerbaijan will comprise 50m tons of oil. In 2006 the export potential will comprise 24m tons, in 2007 - 40 million tons," SOCAR President noted. (Trend)
Oil produced from Azeri field will the major oil to fulfill the pipeline with the length of 1,760km.
"In 2005 production from Azeri field will comprise roughly 5 billion tons of oil, in 2006 - 11 million tons with further exit to 20 billion tons a year," Aliyev noted.
Average tariffs for oil pimping via the Baku-Ceyhan pipeline will constitute $3.3 a barrel.