Azerbaijan and Kazakhstan will sign an agreement on cooperation in the sphere of terror, organized crime and drug trafficking, a diplomatic source told Trend.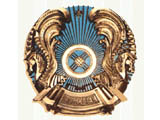 Rashid Tusupbekov, the Prosecutor General of kazakhstan, signed the document within the frames of his visit to Baku. The visit targets discussing the prospects of cooperation between the bodies of the two countries. The two sides will consider the opportunities for expanding the cooperation in extradition of prisoners, serving the punishment term in the territory of another country, delivery of legal assistance.
During the visit the two sides will discuss mutual activities in fighting the international crime, international terror, transnational economic crime, as well as laundry of dirty money, drug trafficking.

Under the visit Tusupbekov plans to meet with his Azerbaijani counterpart Zahid Garalov, Speaker Murtuz Alasgarov, and President Ilham Aliyev.