613 wagons are detained in Boyuk-Kasik station of Georgia-Azerbaijan border now.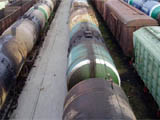 According to the information given to APA by Nadir Azmammadov-head of pres service of State Railway Office, 217 of the detained wagons are loaded with diesel fuel, 297 with corn, 32 with liquid gas, the rest with various products. Azmammadov stated that, the detained wagons are regularly examined by the associates of State Customs Committee; the loads with proper documents are let to pass the border without any obstacles.
As to him, though one part of the wagons loaded with stove fuel were prepared to the pass, they will be permitted to pass the territory of Georgia tomorrow.