Reconstruction of Ganja airport will be completed by the end of this year.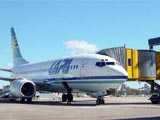 According to the information given to APA from Azerbaijan Airlines State Concern, 192 billion manats has been allocated from state budget for this purpose, and spent to construction work. The construction of Lenkeran airport is to be completed by the end of next year.150 billion manats are considered to be spent to the construction of Lenkeran airport.
It was informed from the State Concern that, the both airports will be supplies with modern equipments and necessary technique. The both airports to meet international standard will be given international status.