Oil & gas production enterprises (OGPE) of the State oil company (SOCAR) put four production wells into operation in January, up 3 holes from the monthly target figure.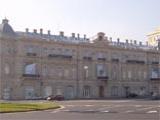 A company-placed source told TREND agency that the wells were converted from drilling to development service.
The wells were commissioned by 28 May OGPE, as well as Bibi-Heybat, Amirov and Siyazanneft OGPE.
In 2004, SOCAR commissioned 109 wells, topping the annual target of 91. Of the total, 108 wells came on stream from drilling service.
In January 2005, joint ventures and onshore operating companies put three wells from drilling stage into operation, whereas no commissioning of a well had been provided in the schedule of operations. The wells were commissioned by ANSHAD Petrol JV, as well as Gobustan and Az-Sheng-Li Operating Companies.