The Court of Appeals presented to Salyan Oil Limited (SOL), which involved in the development of the Kursangi-Garabaghly fields, an additional term for the treatment of polluted areas.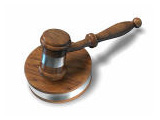 The company should complete the treatment of polluted area by March 2005. "The case can be re-considered unless company implements it," the Court said.
The Court of Appeals considered the appeal by Salyan Oil in connection with the positive resolution of a lawsuit filed by the Inspection of State Control over the environment and use of natural resources under the Ecology Ministry. Experts of the Court, the Ministry of Ecology and Natural Resources and SOL company held a joint inspection in the territory and revealed the polluted areas.
Under the verdict the company was to pay a 758, 271,250 manats fine due to damage to the environment during the production of hydrocarbons. SOL has no intention to repay the fine, as under PSA the suits should be considered not in the Azerbaijani courts, but in the UN Commission on international, based in Stockholm, Sweden. SOL appealed to the Supreme Court of Azerbaijan, which also rejected the appeal. The case was sent to the Economic Court, which supported the suit filed by the Ministry.