The cargo inspection in the state border with Georgia is about to complete, Musa Panahov, the Azerbaijani Deputy Transport Minister, told Trend.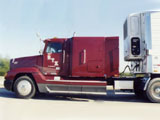 Results of inspection will be announced by the law-enforcement bodies and the State Customs Bodies. "We are aware of the names of companies which are involved in the cargo delivery through the ASRD, but we don't possess information on the companies violating the rules," he noted.
Panahov also stressed that the work over the Kars-Akhalkalaki-Tbilisi railway route was underway. "Detail information on the project will be provided in a meeting of the Transport Ministers of Azerbaijan, Turkey and Georgia to be held Turkey in April," he noted.
As to opportunities of cargo deliveries via Armenia Panahov said that a protocol signed by Azerbaijan, Georgia and Turkey does not contain an item banning it. "However, Turkey and Azerbaijan stated that any economic relationships with Armenia are impossible without resolution of political issues and liberation of occupied territory," Panahov underscored.