In 2005 the Azerbaijani government plans to continue holding investment conferences, Emil Majidov, the head of the Fund for Enhancing Investments and Consultations (FEIC), told Trend.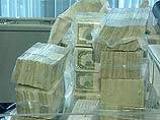 He noted the plans of arranging as minimum three events abroad. "Earlier we planned to hold an investment conference in Singapore, which was further transformed to a forum. In addition, we are going to hold an investment conference in Istanbul and New-York in 2005," Majidov stressed.
According to Majidov, the date of the event is still to be determined.