A group of the World Bank, the International Monetary Fund (IMF) and the Swiss State Secretariat on Economic Cooperation (SECO) are involved in the development of a scaly program on assistance to financial sector of Azerbaijan, Trend reports.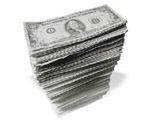 Elman Rustamov, the chairman of managing board of the National Bank of Azerbaijan, told journalists on Wednesday it was dealt with technical assistance to the development of the financial sector in Azerbaijan, including the banking sector, insurance, audit, on the base of recommendations made under the Financial Sector Appraisal Project (FSAP), implemented by the WB and the IMF in 2003-2004.
"We have unique chance of defining the financial and technical assistance sources. Every organization regulating the financial sector presents the amount and directions of assistance. There are three sources: a project on upgrade of financial sector currently designed by the World Bank, a concept on technical assistance developed by SECO and FIRST program of the World Bank and the IMF," Rustamov noted.
According to Rustamov, thus far only SECO informed on approval of 5m Swiss francs grant. "The bulk amount is still to be defined," he underlined.