Azerbaijan will re-denominate its currency by 5,000 times beginning next January, President Ilham Aliev ordered Monday, potentially putting the manat on a one-to-one rate with the U.S. dollar.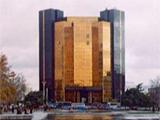 In a signed decree, Aliev said the change to the Azerbaijani manat would go into effect on Jan. 1, 2005 and new bills will be printed, according to Azerbaijani state television.
No reasons for the change was given. Government spokesmen could not be reached for comment late Monday.
One U.S. dollar currently trades at about 5,000 manat.
Azerbaijan's central bank had planned to re-denominate the manat by 1,000 as of Jan. 1, 2004, but the government opted not to on advice from economists who said the country's economic conditions were not solid enough and that the change would have fueled high inflation and pushed up the dollar exchange rate.
One economic expert, who asked not to be named, said the conditions were still not right for the re-denomination of the manat. Economist Ingilab Ahmadov, however, disagreed, adding that dropping the extra zeros will make it easier for accounting and bookkeeping.
The Caspian Sea nation has seen a massive influx of foreign capital and investment since the breakup of the Soviet Union as major international oil companies seek to tap into offshore oil fields - some of the richest fields in the entire former Soviet Union.
However, chronic corruption and slow economic reforms have meant that Azerbaijan has yet to enjoy the economic windfall many had predicted from its oil.
Inflation currently hovers at 6.7 percent, according to the State Statistics Committee, however, independent experts say the actual rate is more likely 10.4 percent.