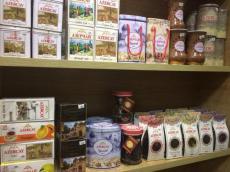 By Azernews
By Leman Mammadova
Nigeria's prestigious La Pounte supermarket sells Azerbaijani products under the Made in Azerbaijan brand, Head of the Friends of Azerbaijan Organization in Nigeria, Billura Bayramova-Bernard told AZERTAC.
Azerbaijani products are sold on the foreign markets under the Made in Azerbaijan brand. The national products were put on sale in Africa for the first time in 2017 in Djibouti's famous "Casino", "Al Gamil" and "Cash Center" supermarkets.
They offered consumers juices, tea, canned vegetables, dried fruits and natural cosmetics by Azerbaijani producers.
The state pays attention to diversification of non-oil exports and uses the Made in Azerbaijan brand for entering foreign markets. Organization of shelves of Made in Azerbaijan in Duty Free and in stores is a supportive event for the promotion of local non-oil products worldwide within a single brand.
Launched in 2016, the Made in Azerbaijan brand envisages a large-scale promotion of local non-oil products in foreign markets. Aimed at promotion of Made in Azerbaijan brand, export missions were sent to identify opportunities for accessing new markets, strengthen local product positions in existing markets and provide these markets with new products.
So far, the agreements have been reached with many foreign countries to export domestic products as a result of the implementation of numerous export missions.
During 2018, export missions to Russia, Switzerland, China, Kazakhstan, Mongolia, Turkey and Bulgaria have already been sent. Export missions to UAE and Saudi Arabia will be organized by the end of this year. As many as 25 export missions are expected to be organized in 2019.
Promotion of export-oriented local products under the Made in Azerbaijan brand in a wider geographic area also helps to attract foreign investment and further strengthen the non-oil sector's share in the structure of the GDP.