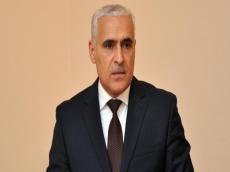 By  Trend
Such major projects as Star Refinery further strengthen the Azerbaijan-Turkey unity, Vugar Rahimzade, a member of the political council of Azerbaijan's ruling New Azerbaijan Party (NAP), editor-in-chief of the Iki Sahil newspaper, told Trend Oct. 22.
"The opening ceremony of the Star Refinery took place in Turkey's Izmir Oct. 19," he said. "The refinery was founded on Oct. 25, 2011 with participation of the Azerbaijani and Turkish presidents. As is seen, all projects initiated by Azerbaijan and Turkey are implemented successfully and serve further development and well-being of two peoples. In this context, the launch of the Star Refinery makes it safe to say that Azerbaijan and Turkey successfully achieve all their goals."
He noted that what was said at the refinery's opening ceremony by the president of Azerbaijan expresses confidence that strong political will of the leaders of the two states, as well as friendship and fraternity lie in the core of the implementation of such giant projects.
Rahimzade added that Azerbaijan's state oil company SOCAR plays a great role in the implementation of these projects.
He added that the Azerbaijani-Turkish relations are at the highest level.
"This unity is eternal and indestructible," said Rahimzade. "Azerbaijan and Turkey demonstrate an example of friendship and fraternity on a global scale. I believe such big projects as the Star Refinery multiply our strength and further strengthen our union."
The opening ceremony of the Star oil refinery took place on October 19 in Izmir, Turkey, with the participation of President of Azerbaijan Ilham Aliyev and President of Turkey Recep Tayyip Erdogan.
The total refining capacity of the refinery will be 10 million tons, and Azerbaijan's state oil company SOCAR is the main supplier of crude for the refinery. The refinery will significantly reduce the dependence of Turkey on imports of petrochemical products.
The refinery worth $6.3 billion, built by SOCAR in the Aliaga District of Izmir, will produce 1.6 million tons of naphtha, 1.6 million tons of aviation fuel, 4.8 million tons of low-sulfur diesel, 700,000 tons of petroleum coke, 420,000 tons of mixed xylene and 160,000 tons of sulfur.