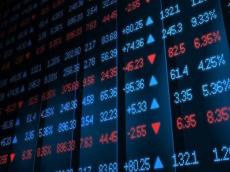 By  Trend
Placement of bonds worth 37.35 million manats of Azerbaijan's Finance Ministry was held at the Baku Stock Exchange (BSE) on Oct. 16, the BSE said in a message.
A total of 400,000 transactions were concluded on these bonds at a cost of 92.8869-93.5785 manats.
In the BSE secondary market, deals were also concluded with the US dollar bonds of Azerbaijan's state oil company SOCAR worth 101,500 manats. The deals were concluded at a price of $1,015 per bond.
The value of transactions for the purchase and sale of shares in the BSE secondary market amounted to 1,330 manats.
The shares of the companies "Barda-Tijaret", "Mingachevir Balig", "Masalli Konserv", "Oghuz-Aptek", "Meishet Mallari", "Siyazan-Broyler", "Baki Tekhnika Sanaye" and "Absheron Tikinti Sanaye" were participating in the tradings.
The cost of one share of the company "Siyazan-Broyler" is 4 manats, and the cost of one share of the rest of the companies is 2 manats. A total of 474 deals on these shares were concluded on Oct. 16.
(1.7 manats = 1 USD on Oct. 17)