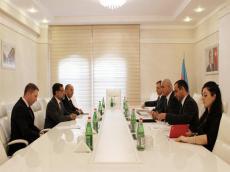 By Azernews
By Sara Israfilbayova
A delegation led by Vice President of the Islamic Development Bank Zamir Iqbal paid an official visit to Azerbaijan on September 15.
During the visit, Azerbaijani Economy Minister Shahin Mustafayev stressed the importance of cooperation with the IDB and the institutes that are part of the IDB group, noting that the bank's support to the private sector of Azerbaijan was highly appreciated.
It was noted that the IDB has invested more than $1.2 billion in the Azerbaijani economy in more than 40 projects and these projects cover such areas as agriculture, energy, transport, social services, water supply, ecology, trade, private sector, etc.
Noting Azerbaijan's interest in developing cooperation with the IDB, the minister stressed the importance of investing in the private sector of Azerbaijan, direct financing of enterprises, participation in equity, and expansion of investment cooperation in priority areas such as agriculture, industrial parks and zones, machinery and equipment, chemical industry, pharmaceuticals.
Iqbal, in turn, expressed satisfaction with the visit to Azerbaijan and the cooperation of the bank with the country. Igbal told about the Fund of Science, Technology and Innovations, the authorized capital of which is $500 million, noting that the fund supports the promotion of science, technology and innovation in the member countries of the bank and the development of start-ups, small and medium-sized businesses.
The Islamic Development Bank is a multilateral development bank, working to improve the lives of people by promoting social and economic development in Muslim countries and communities worldwide, delivering impact at scale.
It was founded in 1973 by the Finance Ministers at the first Organization of the Islamic Conference (now called the Organization of Islamic Cooperation).
The present membership of the Bank consists of 57 countries. 
Azerbaijan's cooperation with the IDB has started in 1992. The Bank's Local Representative was appointed in Azerbaijan in 2007.