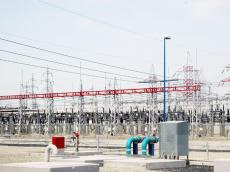 By Azernews
By Sara Israfilbayova
A new power plant with a capacity of 1,000 megawatts may be built on the Absheron Peninsula.
That was reported during the presentation of the report on "Production and consumption of electric energy in the Republic of Azerbaijan: retrospective view, analyses, forecasts, proposals" on September 12.
At the event it was noted the importance to carry out measures to modernize power plants, suspension activities of stations that have expired by 2030, creation of new generating capacities, as well as increase the share of renewable energy sources in electricity production.
The report includes estimates given by international structures, as well as local experts in order to forecast the demand for electricity in the country, as well as the share of heat, hydroelectric and modular power plants in the production of electricity, their technical condition, level of efficiency, use and potential of renewable energy sources.
It was also recommended to consider proposals for the construction of power plants running on two types of fuel, the use of new technologies, the correct selection of transit routes for power transmission lines, the construction of one or two stations with a total capacity of 1,000 megawatts on the Absheron Peninsula or adjacent territories.
In particular, the proposals for the restoration and commissioning of the existing units, as well as proposals for the selection of additional sources of energy to ensure safe operation of the subway were recommended for consideration.
Throughout history, the power industry of Azerbaijan considered to be a dynamically developing industry, which plays a dominant role in the South Caucasus region.
The electric power industry, along with the oil and gas industry, has a leading role in the economy of Azerbaijan. It also occupies an important place in the social infrastructure. To date, there are no settlements in Azerbaijan that do not have access to electricity.
Energy development has always been one of the priority areas of the state's economic and social policy, and sufficient funds have been allocated from the state budget for maintenance and construction of energy facilities.
Earlier, it was reported that it is planned to commission a power plant in Lerik region with a capacity of 16.5 megawatts till the end of 2018.
In 2017, 21.8 billion kilowatt-hours of electricity were generated in the republic, of which 20.2 billion kilowatt-hours accounted for thermal power stations and only 1.6 billion kilowatt hours for hydroelectric power stations.