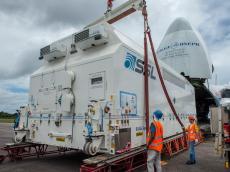 By Azernews
By Naila Huseynli
Azerbaijan's geostationary satellite Azerspace-2/Intelsat 38 will be delivered into orbit from the French Guiana Space Center. In this regard the satellite arrived in French Guiana, this time for Ariane5 Flight VA243!
"Azerspace-2/Intelsat 38 was delivered ahead of its dual-passenger launch," CEO of Arianespace Company Stephane Israel tweeted.
Launching the second satellite into orbit is scheduled for September 2018.
The Azerbaijani satellite will be launched into orbit by Ariane 5 ECA carrier rocket. Besides Azerspace-2 / Intelsat 38, the Horizons 3e satellite of the Intelsat joint venture and the Japanese operator Sky Perfect JSAT Corp will be launched on the same day.
The satellite will be delivered into geostationary orbit at 45 degrees east longitude. Its service zone will include countries of Europe, Central and South Asia, Middle East and Africa.
The satellite manufacturer is a subsidiary of the Canadian corporation MDA-Space Systems Loral (SSL), which is also a supplier of spacecraft control systems.
The first communications satellite Azerspace/Africasat 1a was launched into geostationary orbit at 46 degrees east longitude on February 8, 2013. The satellite was launched from the Kuru space base by Arianespace.
Currently, Azerbaijan has two satellites in orbit - Azerspace-1, which renders telecommunications services in Africa, Central Asia, the Middle East and Europe, as well as AzerSky, which renders services around the world, as well as to such biggest U.S. companies as Google.
The revenue from the first satellite of Azerbaijan Azerspace-1 since its launch into orbit amounted to $72 million and from Azersky satellite – $19 million, as for February 7.
The nation's first satellite, Azerspace-1 built by Orbital Sciences Corporation, was launched by Ariane 5 into orbit on February 8, 2013. This satellite provides a variety of services. It has transmission capabilities for TV, radio broadcasting, data transmission, VSAT multi-service networks, and governmental communications. The total cost of the Azerspace-1 project was $230 million.
In December 2014, Azercosmos took over the rights to operate and commercialize Azersky, high resolution (1.5 meter imagery products) optical Earth observation satellite, and entered into the commercial business of Earth observation services, including geo-information services. Azerbaijan's revenue from the operation of Azersky is expected to exceed $200 million within the next decade.