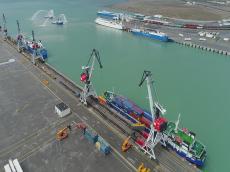 By Azernews
By Sara Israfilbayova
Baku International Sea Trade Port recorded a significant increase in the turnover of containers and passengers in the first half of the year.
The Port reported that in the first half of this year, the volume of cargo transshipment reached two million tons, of which 86 percent is transit cargo.
In the recording period, 10,746 containers were registered in the equivalent of TEU, which is 53 percent more than in the same period last year.
Moreover, during this period 19,965 passengers used the services of the Baku port. Thus, 16,526 passengers (82.8 percent) traveled to Turkmenistan, 3,439 passengers (17.2 percent)-to Kazakhstan.
At the ferry terminal in the village of Alat, transshipment of wagons reached 21,960 units.
For six months of this year, 9,512 multi-tonnage vehicles used the services of the Baku Port.
Of these, 5,353 units (56.3 percent) were involved in the direction of Baku-Turkmenbashi-Baku, 4,047 units (42.5 percent) - Baku-Aktau-Baku, 112 units (1.2 percent) - in the direction of Baku-Kuryk- Baku.
In the first half of this year, oil and oil products transshipment at the oil terminal increased by 30 percent, reaching 280,000 tons.
The Port of Baku is located on an area of 400 hectares of land, of which about 100-115 ha cover the area for the development of the international Logistics and Trade Zone. The northern areas around the port are reserved for future expansion of logistics, industrial, and manufacturing activity.
The Port is expected to become one of the leading trade and logistics hubs of Eurasia. The implementation of all three phases of construction is projected to increase the capacity up to 7,660 tons on a daily basis.
The cargo handling capacity of the port, opened on May 14, 2018 with the participation of President Ilham Aliyev, within the first phase is 15 million tons, including 100,000 containers per year. Seven of 12 existing berths serve dry cargo ships, two berths - ferries, two more berths - Ro-Ro and Ro-Pax vessels.