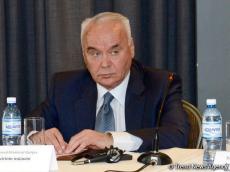 By Azernews
By Sara Israfilbayova
Priorities of Azerbaijan during its chairmanship in the Organization of the Black Sea Economic Cooperation (BSEC) will be presented in Istanbul on July 12 .
Country's Deputy Foreign Minister Mahmud Mammad-Guliyev said that during the period of its chairmanship, Azerbaijan will pay special attention to the development of transport hubs in the BSEC region, sectoral cooperation in such areas as tourism, agriculture and communications.
He went on to say that the country attaches great importance to deepening partnership relations within the framework of BSEC, and transnational economic projects initiated and implemented by Azerbaijan jointly with other countries of the region create conditions for the rational use of rich natural resources, transport capacities and intellectual potential of the region, pave the way to solving many problems common for countries.
"In particular, with the participation of three member countries of the organization - Azerbaijan, Georgia and Turkey, a number of transnational projects were implemented in the region, and some projects are being implemented," he noted.
They include the main export oil pipeline Baku-Tbilisi-Ceyhan, the Baku-Tbilisi-Erzurum gas pipeline that supply the hydrocarbon resources of the Caspian Sea to global markets, other giant projects aimed at presenting Azerbaijan's energy potential to the world, the Baku-Tbilisi-Kars railway, as well as other international transport projects that develop the transit potential of the region.
"All this shows that there are all possibilities for the dynamic development of the region," according to Mammad-Guliyev.
In the second half of 2018, in accordance with the procedural rules and in accordance with the alphabetical order, Azerbaijan will chair the BSEC.
It is planned to hold a series of events, seminars and conferences at a high level. Also, at the end of 2018, Azerbaijan will host the 39th Council of BSEC Foreign Ministers.
The Black Sea Economic Cooperation as an interstate association was established in 1992 at the Istanbul Summit of Heads and Governments of the Black Sea region states. 
BSEC is a regional international organization focusing on multilateral political and economic initiatives aimed at fostering cooperation, peace, stability and prosperity in the Black Sea region.
With the entry into force of its Charter on May 1, 1999, BSEC acquired international legal identity and was transformed into a full-fledged regional economic organization: Organization of the Black Sea Economic Cooperation. With the accession of Serbia (then Serbia and Montenegro) in April 2004, the Organization's Member States increased to twelve.
An important aspect of the activities of BSEC is the development of SME and entrepreneurship in the member countries. 
It currently includes 12 countries: Albania, Azerbaijan, Bulgaria, Georgia, Greece, Moldova, Romania, Russia, Serbia, Turkey, Ukraine and Armenia.